Taryn Noelle Releases New Original Song -
A Vermont Christmas Waltz ©
Copyright 2020, ASCAP Writer & Publisher, Music & Lyrics: Taryn Noelle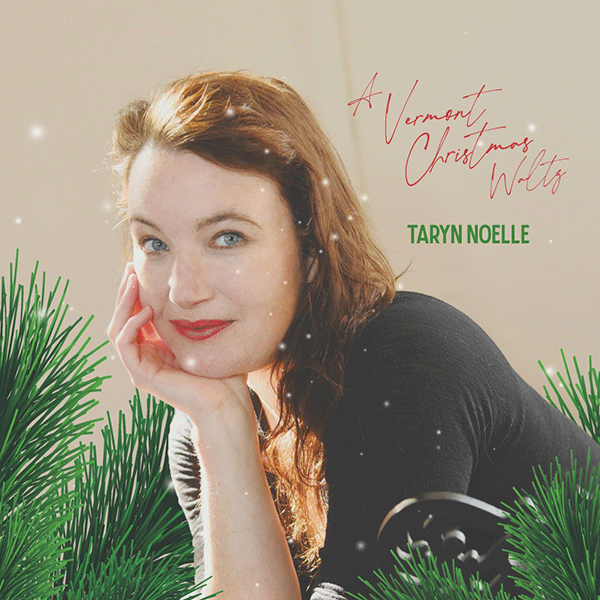 Late in the Fall of 2019 I attended a Ricky Skagg's concert at Lyndon State College in Vermont. Being a true Southerner, Ricky regaled his 2000 plus audience attendees with stories about "The Tennessee Waltz", and "The Kentucky Waltz", and he asked the audience if we have a Vermont Waltz. Some responded with the familiar Vermont anthem "Moonlight in Vermont". His response was clear – "Well the next time I play Vermont one of y'all better have written a Vermont Waltz! After leaving the concert I thought about his directive, smiled and shrugged my shoulders and said to myself, "Well missy, ….someone's gotta do it, and I guess it might as well be me!".
I'm so grateful to Rick Norcross, a beloved Vermont musician and friend, who introduced me to the music of Ricky Skaggs, and other artists of Western Swing and Bluegrass.
This new Christmas single would not have been possible without the help of countless friends, colleagues and family. My loving gratitude goes out to: Mary Rowell, Joe Davidian, The Vaus Family, Robin Gottfried, Dave Rowell, Margaret Rowell, Saul Trevino, Dono Schabner, Fran Rowell, Corey Gottfried, Nancy Jeffries-Dwyer, George Petit, Rick Norcross, Michael Fisher, Ashton Harrewyn, Marion Peer of Vermont Sweet Tooth, Joshua Vaus, Stephanie Raccine, The Stowe Community Church, and Richard Pritsky.
Merry Christmas and Happy Holiday Blessings to you all!
With love,
Taryn
Music Videos!
Here's a Clip from Behind the Scenes.
What People are Saying:
"It should come as no surprise that Taryn Noelle, someone who does it ALL (dancing, choreography, singing, acting, teaching, directing) is also a first-rate composer and lyricist! I've called Taryn a dear friend and musical collaborator for a few decades now, and even *I* didn't know she could compose so masterfully! WOW! Her new Christmas song, "A Vermont Christmas Waltz," is a thing of beauty, and makes me miss my Vermont friends and family very much."
"I finally had a chance to sit down, take a deep breath and have a deep listen to your wonderful new song, "A Vermont Christmas Waltz." Absolutely beautiful, Taryn! First class all the way around from your vocals, the terrific arrangement and the instrumental execution. Congratulations all around, Taryn."
"Taryn Noelle faced a challenge to write and sing a GREAT Christmas song…and she delivered "A Vermont Christmas Waltz." The song will no doubt become a staple on Vermont radio every holiday season for years to come. Taryn Noelle has the voice of an angel!"
"Taryn Noelle's voice is as clear and pure as a bluebird day on the ski slopes of Vermont. I was blessed to be present on Christmas Eve 2019 when she debuted, at Stowe Community Church, this special song she wrote, "A Vermont Christmas Waltz". As I listen to the song now, it fills me with hope for the time when we shall, once again, rise out of darkness into the light of a new day."
"I just downloaded your song and it is absolutely gorgeous! Congratulations on composing such a beautiful song and sharing your wonderful voice with such grace and poise and sentiment. You are perfection! You give me chills!"
"Love the new song! Feels like it should be in a Christmas movie."
Personnel Listing for Audio Recording Credits
Music and Lyrics/ Lead Vocal: Taryn Noelle
Producer & Recording Engineer: Mary Rowell
Arrangements: Joe Davidian, Mary Rowell, Robin Gottfried
Mixing & Mastering: Robin Gottfried
Piano: Joe Davidian
Guitar: Don Schabner
Violin: Mary Rowell
Cello: Fran Rowell
Bass: Dave Rowell
Background Vocals: Corey Gottfried & Robin Gottfried
Photography/ Art: Joshua Vaus, Mary Rowell, Madeline Hughes
Recorded at: Whetstone Studio and Northside Studio
Mixed & Mastered at: Robin Gottfried Studios
Music Video filmed at Birdsong Farm, home of Vermont Sweet Tooth, and Intimate Weddings Vermont.
A special dedication to the Vaus family…Will, Becky and Josh, and written with love and gratitude for my sweetheart Dave, my wonderful family, and for the members and congregation of the Stowe Community Church.
Copyrighted
ASCAP Writer Account Name: TarynNoelleMusic802
Member ID #: 5894426
IPI Name Number: 1029138084
Work ID #: 910122763
ASCAP Publisher Account Name: TNArts802!
Member ID#: 5894425
IPI Name Number: 1029137969
Work ID #: 910122763
email: tarynnoelle5678@gmail.com